Visit EFTSpain Training International website for details on courses. Including
Foundational
Practitioner
Advanced Practitioner
Master Trainer
All accredited courses and certification.

LEARN AAMET EFT or ' tapping '
All AAMET International Trainers are approved with The Association for the Advancement of Meridian Energy Techniques and held near Balsicas, Murcia which is 10 mins from San Javier airport and 45 mins from Alicante.
Here is a short video taken on one of my courses.
Marie is a qualified Trainer of Trainers with AAMET International.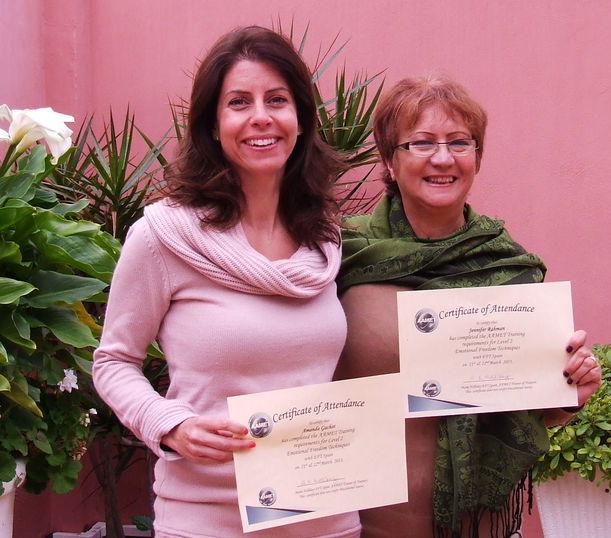 Learn this simple yet powerful technique on the Foundational Level or professionally to Practitioner level.
The courses are suitable for anyone, to help heal yourself,family & friends or suitable for professionals as an adjunct to your existing practice or therapy. Certification through AAMET international, recognised worldwide.
Visit EFT International Training for current dates & Venues.
The courses are presented in a professional yet friendly and enjoyable way for all levels.
Level 1 Foundation One day Course
Course Objective.
To understand the "basics" of AAMET Emotional Freedom Techniques or ' tapping ' and have a step by step procedure for putting it into action.
To apply this tapping technique confidently to yourself (and family or friends)
Course Contents
History & Origins of EFT
What is EFT
Bridges to EFT
The Discovery Statement
What can you use EFT for?
Discuss Abreaction & excessive intensity
Diagram and practice of tapping points
Tapping points sequence
The Basic Recipe
Psychological Reversal
Importance of hydration
The Generalisation effect
Your point concept
Short cut tapping
Cognitive belief shifts
"The Ham Sandwich"
Aspects, Persistence, Being Specific
EFT for Cravings
Probing questions
Testing results
Troubleshooting
The Movie Technique
Personal Peace Procedure
EFT Resources
Video
Practice for participants
Demonstrations
Adapting the technique to most issues/problems
Question & Answer period
Certification
Introduction to Course information Level 2
AAMET members rules & regulations
Course fee ... 155 euros
Level 1 is a comprehensive course with complimentary on going, follow up and support and includes Training Manual and AAMET Certificate of Attendance Level 1.
May be taken on a one to one basis or small group which is preferable if attendees are interested in participating in Practitioner Level 2 of which Level 1 is a pre requisite .
If you wish to advance to Level 2 a multi choice test on Level 1 syllabus is offered to check your understanding and review any areas of further understanding and indeed training, please contact for details on this. This is not a requirement of AAMET but an option I offer to help you be the best you can be.
Please visit our sister site for more information on course dates etc. AAMET International EFT Training Courses.
The courses are approved and presented by Marie Holliday, a certified Practitioner,Trainer and Trainer of Trainers with AAMET and Co-Director of AAMET Training & Certification Bpard who has trained with Gary Craig, Master Gwyneth Moss & Dr Alex Lees.
Bespoke courses may be arranged for individuals, small groups, corporate groups and arrangements can be made for Bed & Breakfast or local hotels combining a course with a small break in this region or a holiday.
Marie teaches AAMET EFT in both English and Spanish and travels world wide to do this. She can be contacted for more information regarding arrangements by email or phone.
Visit EFT International Training for current Dates & Venues
AAMET EFT Level 2 Courses
All courses are approved by AAMET International
All qualified trainers are certified and registered with AAMET International
All certification is issued through AAMET International.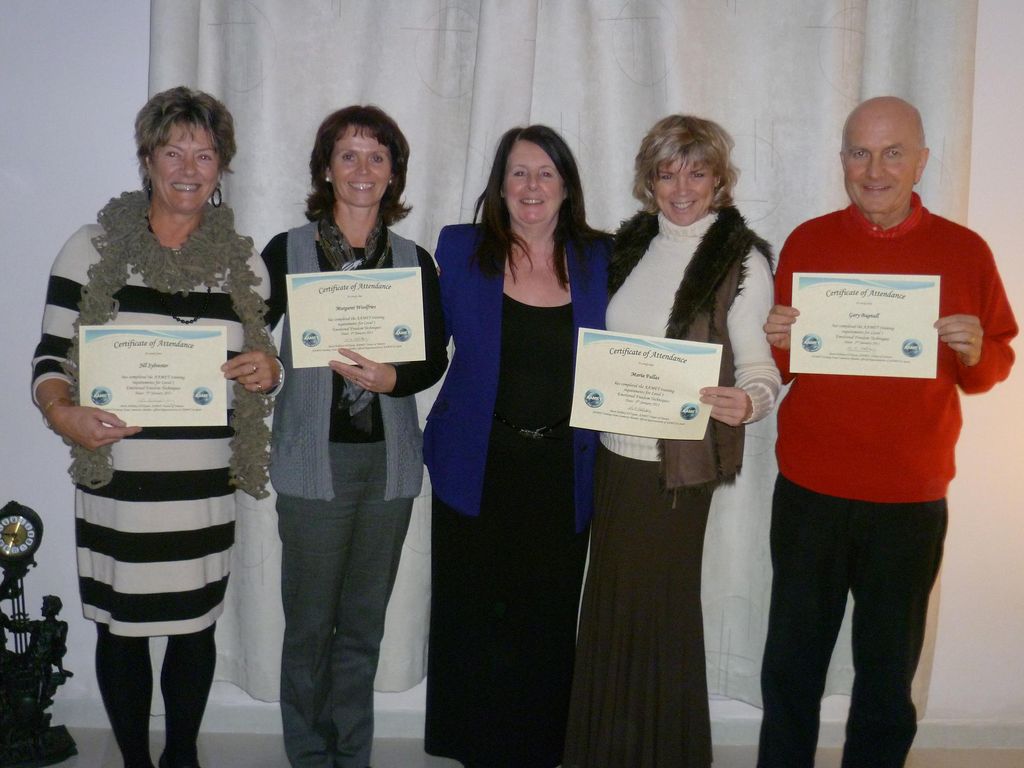 Learn more about AAMET in Spain
Level 2 Practitioner two day Course
This is a two day course which leads towards Practitioner Level and Level 1 is a pre- requisite, plus an option of a multi choice exam to review understanding of Level 1 .
This level may also be taken by people who wish to become more proficient in their EFT skills without certification at a non professional level.
Course Objective.
To take Emotional Freedom Techniques or 'Tapping ' to a higher level of understanding, skills and knowledge.
Consolidate that learning with level 1 Basic foundational Emotional Freedom Techniques building a solid base to work with.
To work towards gaining certification to Level 2 AAMET Practitioner ( optional).
Course contents
Course introduction and personal needs/objective
Brief review Level 1
Principles from the " Palace of Possibilities"
"The Writing on our Walls "
Limiting beliefs
Affirmations/ tail Enders
Additional tapping points
Collar bone breathing
Introducing gentleness into the procedure when working with Trauma
Tearless trauma technique
Chasing the pain
Sneaking up on a problem
Introduction to Reframing
Rapport & Calibration
Core issues
EFT & Animals
EFT & Children
Legal implications of EFT practice
Addressing physical issues
Floor to ceiling eye roll
When physical symptoms don't vanish
Testing results
Telephone/Skype work
Benefits of telephone work
Delivering EFT in a group
Personal issue tapping
Borrowing benefits
Discussion, Q and A, Practice
Certification
AAMET requirements & Code of Conduct
Discussion of Mentoring, case studies & multi choice exam
Information on Level 3 Advanced Practitioner course
Course fee ... 340 euros
There is a multi choice exam for Level 2 that checks your knowledge, understanding of the syllabus prior to completing Practitioner status.
Three case studies are also required prior to Level 2 Practitioner status being granted. More details please email or use the contact form.
Monthly group mentoring by Skype. Complimentary of an hour and half is included in the three day combined course and a requirement of AAMET International.
The course includes follow up/additional training in any areas needed, detailed feedback of case studies and any follow up, ongoing support and preparation of monthly Skype meetings for mentoring.
The course includes a comprehensive Training Manual.
Certificate of Student Attendance L2 working towards Practitioner Certification.
On qualification, Practitioner may list themselves on the AAMET main site when the trainer is satisfied to Practitioners knowledge, skills.
FULL THREE DAY COMBINED PRACTITIONER COURSE...495.00 euro
Visit EFT International for current Course dates & Venues
Advanced Level 3 Practitioner Two day Course
This is a two day Advanced Practitioner course for those who wish to take AAMET's EFT to its ultimate expert level.
Level 1 and Level 2 are a pre - requisite to Level 3.
Course objective
To enhance Emotional Freedom Techniques and the skills required to the optimum level with the '" Art of Delivery ".
To understand how to use and apply the techniques to an advanced level by consolidating current knowledge and skills with greater refinements and skills, over and beyond those already used .
To expand knowledge base and experience practical examples.
To gain approved Level 3 Advanced Practitioner Certification of Attendance and understand AAMET's on going requirements concerning continuous professional development and mentoring working towards Level 3 Practitioner Certification.
Course contents
Course introduction and personal needs/objective
Brief review foundational concepts
Introduction to severe menatl disorders and drug addiction etc.
More on calibration & rapport
Imagery tapping
More advanced " Choices" technique
Continuous Tapping
Reframing
Creative EFT
Intuition and devolpment
Working on serious diseases & EFT with PR setbacks etc.
The Garbage and The Gold
Balancing the Emotional " truths "
Powerful words
Love and Forgiveness
Inner child work & sub personalities
Talk & Tap
Working with metaphor
EFT approaches for Trauma
Imagineering
Allergies
Surrogate tapping
Detecting " Body responses "
Releasing cellular " Memory of Protection "
The Photograph Technique *
Chest Points " reversal " tapping " *
Bring your own questions ?
Q & A
Practical demonstrations inc. legal & ethical
Business discussion
CPDs, mentoring & AAMET requirements
Course fee ... 340.00 euros including training manual and on going complimentary support.
Level 3 Certificate of Attendance and Level 3 Practitioner Certificate awarded following AAMET's current requirement
AAMET Trainer training is currently under review and due to be released by the Training & Certification Board shortly.
Check in on AAMET for regular updates. www.aamet.org
Visit EFT International for current Course dates & venues.
Trainers Course
AAMET is looking for the very best there is when training to Trainer level. As a Trainer you need to have the potential skills to :
Teach information in a clear, concise yet easy manner

Have a passion for teaching EFT

To meet AAMET teaching standards and guidelines

Teach your students in a professional yet friendly manner

Be part of a worlwide training team that strive for the best

More knowledge than your students
Ability to answer most questions on EFT & if you can't answer the occasional question, the ability to find out the answer.
To mentor and guide your students to whichever level they choose
To take feedback on your courses & adapt accordingly
To deliver & develop EFT sessions
Keep a paper trail on your students and register them with AAMET
Liaise with AAMET
Follow AAMET rules/regs and issue appropriate documentation to your students
To guide them through their CPD's and Case studies
To take the responsibility seriously and at the same time reflect an element of FUN in your training
And more !!!
If you believe you have the potential please contact me for an informal discussion.
I was a professional Trainer with the Chamber of Commerce and other companies in England. I studies years before qualifying professionally as a Trainer , so you can be sure of the highest standard of training in my two day course. Additionally , I offer complimentary support throughout your time as a Trainer with AAMET with anything you need or are unsure of. As a long term member serving many years with the AAMET Training Committee and Co - Director of AAMET Training & Certification Board I can offer the most up to date standards and advice available. If you think you may fit the bill, I would love to discuss your training future with AAMET and love to have you on board.
The course package includes :
Awareness of Health & Safety and Equal Opportunities
Housekeeping ie where are you presenting..toilets, smoking etc
Room setting for you and your students
Introducing courses, objectives
Rapport building
Training aids
Lesson planning. Sessions & timing
AAMET paperwork, registrations, syllabus & competencies for each level package included for you to start off easily.
Review L1 , L2 and L 3 training understanding, knowledge
Practical demos and if I am training you are welcome to join me at your own comfortable level
Address what you need from the course ?
Continuing follow up and support
I can take you from a nervous Level 3 Practitioner to the confident AAMET Trainer you aspire to be.

This group discusses EFT in Spain and realted energy therapies, events, news, research etc. Welcome to all !
Any enquiries please use the CONTACT FORM below .