AN INTERVIEW WITH RACHEL COBB. June 2012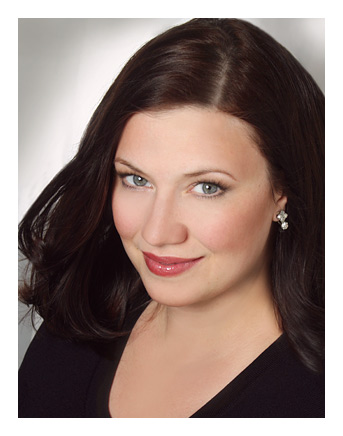 Rachel Cobb.
Marie Holliday an AAMET Trainer of Trainers from Spain interviewed the world famous Soprano Rachel Cobb and how she has used EFT for many years.
1) Rachel, as a critically acclaimed soprano of USA and Europe famed worldwide, when did you start singing ?
I started taking lessons when I was 14. I always knew I wanted to sing, but I didn't know I wanted to be an opera singer until I started learning about classical and opera music through voice lessons. I always wanted to be an actor and singer and opera fit in perfectly with what I enjoyed doing.
2) What are the highlights of your career ?
Singing at Glyndebourne Opera in a super cool new production of 'Turn of the Screw' in 2006 was amazing as Glyndebourne in Surrey, UK is recognised globally as one of the great opera houses in the world.
3) As lead soprano in many famous operas do you have a favourite and why ?
I have so many favourites but singing Donna Anna in Don Giovanni is really the most fun for me because it fits so well into my voice.
4) With a new baby and a busy mum, do you have to train vocally each day ?
I do try, and I don't always succeed but I definitely keep my voice in shape. In fact, I feel like I am singing better than ever now.
5)You have used Emotional Freedom Techniques in the past tell us how you discovered EFT ?
It was so long ago, I can't remember who turned me onto it but I started probably back in 2002 or so.
6)What do you use EFT for personally ?
I have used it for soooo many things... for help with visualization, for recurring bad thoughts and thought patterns, for accepting myself for who I am (instead of what dress size I wear), for helping me learn new vocal techniques faster... I've probably used it for 100 different things. I have also helped a LOT of students and friends with stage fright using EFT, and for various other things - even broken hearts, and fear of flying!
7) Do you find EFT works for you ?
8) You have used EFT with some young vocals would you tell us a little about this ?
I use it most often to help people get over stage fright with auditions. It works really really well for this. First I talk to them about what is going through their head during the audition that leads to the fright... often it is some variation of not being good enough, or as good as the other people... and we first talk it through - I always tell them it doesn't matter how good you are! You just have to be the best you can be. The "best singer" doesn't always get the part, in fact, rarely! You have absolutely no idea what they are looking for- could be a look, could be a height or matching look they are looking for, if the opposite leading part is already cast. It could be someone who has just the one rare quality that you have- so being the best doesn't even help you. Being you will either get you the job or it won't because they are looking for someone else, so no use sweating it! Then we talk through some other aspects and then do EFT until the "10" becomes a "1" (you know what I am talking about!). Usually happens pretty fast.
9) Will you be using EFT with your baby ?
I have used it for him for all kinds of problems and I find it works, though not as fast as I would like. I did see something today about how you need to do EFT on yourself first if you are going to do it for someone very close to you, so I will try that next time.
10) Have you any opera events planned for the future ?
I'm just getting back into the opera world after staying home with my baby for a year. I have some concerts planned and some contracts that aren't signed so I can't say yet! But, I am excited for the future of my singing! Stay tuned!

Rachel, thank you so much for your time in what we know is a busy schedule for sharing with us how you use EFT in your everyday life and if anyone would like more information please

visit Rachel's website here.



Listen to Rachel and the

'Requiem aeterna Libera me'





JOIN our monthly NEWSLETTER 'TAP INTO HEALTH' for an A to Z of EFT and Tapping Tips just complete the

Newsletter form here.

Any further information on EFT, courses please drop me a line on the contact form below.